TPU caster compound, high wear resistance
 Product Description   TU8033 is a polyurethane material with excellent heat aging performance and mechanical properties.   1. The bonding strength is very high, and the material can be bonded to composite materials such as ABS and PC   2. Excellent abrasion resistance, tensile resistance and tear resistance are outstanding.   3. High resilience, good weather resistance, impact resistance and strong bearing capacity.   4. Fast molding, easy processing, non-stick mold.   Dongguan Subo Rubber & Plastic Co., Ltd. has long-term supply of high wear-resistant TPU caster compounds with a hardness range of 70- 98A, the quality is stable and reliable, and the price is affordable. Customers are welcome to call for negotiation: 13602342196 Mr. Liao.  Technical data sheet    

Product Description
TU8033 is a polyurethane material with excellent heat aging performance and mechanical properties.
1. The bonding strength is very high, and the material can be bonded to composite materials such as ABS and PC
2. Excellent abrasion resistance, tensile resistance and tear resistance are outstanding.
3. High resilience, good weather resistance, impact resistance and strong bearing capacity.
4. Fast molding, easy processing, non-stick mold.
Dongguan Subo Rubber & Plastic Co., Ltd. has long-term supply of high wear-resistant TPU caster compounds with a hardness range of 70- 98A, the quality is stable and reliable, and the price is affordable. Customers are welcome to call for negotiation: 13602342196 Mr. Liao.

Technical data sheet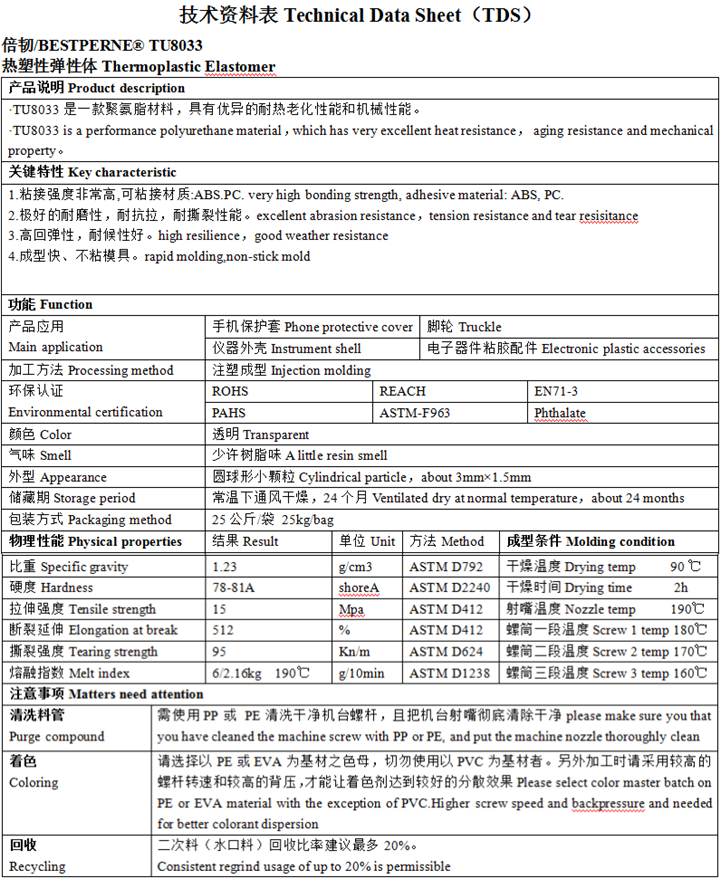 Copyright © 2021 Guangdong SPP New Material Co.,LTD
All Rights Reserved 粤ICP备2020127300号
TEL:+86-0752-6768128 FAX:+86-0752-6768088 MAIL:sales@tpe-sp.com WEB:Een.tpe-sp.com
ADD:Huangxi Industrial Park, Shiwan Town, Boluo County, Huizhou City, Guangdong Province,China